Ultimate Wedding & Travel Specialist
Hiiiiiii!
I'm Nadia, one of the most enthusiastic members of Ultimate Destination Weddings! I joined the team in 2018 when I knew I needed a change to my work/life balance. I now have flexible hours so I can service my loyal and new clients in a timely manner. I love to travel so making it my career was an easy choice 11 years ago. I get to help people travel to the most amazing places in the world and I enjoy swapping stories with all my clients!
Feel free to reach out to me anytime about anywhere in the world you may want to go! Not only do I specialize in destination weddings, but I can still make your individual travel dreams come true.
What is your favourite destination (s) that you've travelled to?
There are far too many to choose from, but I would say my top 5 places I have been to would be:
Thailand
New Zealand
Italy
Costa Rica
Jamaica
What destination is tops on your bucket list?
My next top 5 places to visit will be:
Australia
Greece
Iceland
Peru
Bora Bora
How many years have you been in travel? Any related experience you'd like to note?
I have been in the travel industry since May 2009 as a Travel Agent and have worked at two amazing companies. I love travelling by myself as I find it is the most wonderful soul-searching and relaxing way to experience somewhere new!
I have experienced all "kinds" of travel you can imagine: Small-Group Adventure Tours, All-Inclusive, Back-Packing, Large Escorted Bus Tours, and individual Luxury Multi-Stop Itineraries.
My specialty is group travel. I have assisted in planning and organizing V.I.P. National Sporting groups, corporate events, weddings, and family travel. I enjoy groups the most as I know how difficult it can be to get everyone on the same page!
Bring BENADRYL because it can save your life if you have a crazy allergic reaction!
Also, if you find yourself with a vicious burn or jellyfish sting – white vinegar will sooth it better than any aloe!
I was 18 years old and decided a trip with the art department to Europe was the smartest choice in my final semester of high school. I was terrified because I wouldn't be with my family, but I was hooked as soon as I got off the plane! I went to Germany, Austria, and the Czech Republic. I remember thinking to myself "how do some people go their whole lives without leaving their own country?! These places are AMAZING!" I knew then, that I would never stop exploring new destinations as some of my favourite memories are from that trip.
I so desperately want to go to Australia! From the friends to the weather and the food – I can't wait to go!! I went all the way to New Zealand 11 years ago when I first became a travel agent, but I had limited funds and time-off, so I was unable to extend my time in the South Pacific to go see it. I was SO CLOSE and regretted missing it ever since!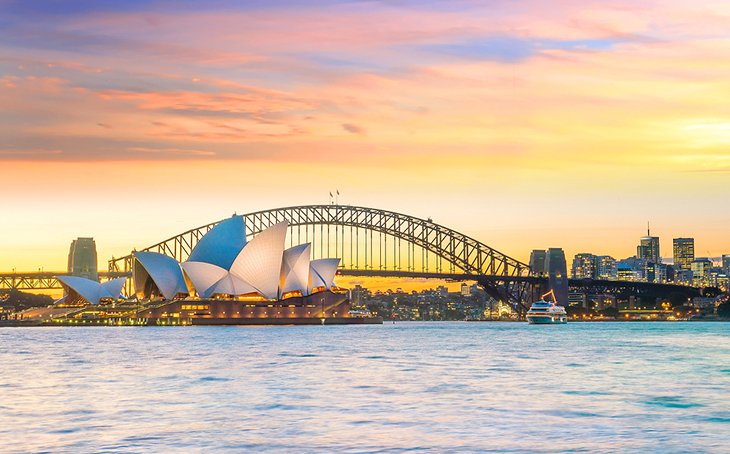 The rest of my bucket list includes (in NO particular order):
Greece
Iceland
Peru
Bora Bora
Bolivia
Galapagos Islands
Egypt
Sweden
Scotland
Spain
Tanzania
Kenya
Argentina
Brazil
Ireland
Turkey
Norway
Finland
Barbados
Greenland
…OK I have to stop as this list is never-ending!!
I know there are a million different places in the world you might pick, but my favourite sunset is on Manasota Key Beach (yes… Florida haha)!! It is the first "proper" sea-shell beach I have experienced as a child and not far from my grandparent's winter home. While I wait for the sun to come down, I walk the beach and collect shark-teeth that wash up on the shore. It is a stunning and peaceful experience every time, which makes it feel like a home away from home.
Perfect Travel Photos Are Harder Than You Think!
Did you know that you need to wake up at 4am to get those sunrise photos in Angkor Wat!?!?
I knew when I went to Cambodia I wanted to take that gorgeous photo, but what you don't know is that there are a million other people surrounding this teeny tiny pond working on getting the same shot as you! It is not easy when you haven't had your coffee yet…but it's worth it!
My Favourite All-Inclusive Resort!
I have travelled all over the Caribbean and stayed in the simplest and nicest places. It is so hard to choose, but I must say the Hotel Xcaret in the Mayan Riviera, Mexico was a game-changer!! From the 5-star dining, resort architecture, vibe, and included excursions at the park – I was NEVER bored. Every resort I go to is now compared to this one. The price is worth every penny!
A much shorter list than my bucket-list!! I have been to a total of 23 countries and enjoyed every moment of it! I thought you all might like to know where I have already been so we can chat about YOU going there (in no preference of order):
India
Italy
Hungary
England
Cambodia
Jamaica
Thailand
Cuba
U.S.A.
New Zealand
Costa Rica
France
Mexico
The Netherlands
Saint Lucia
Germany
Turks & Caicos
The Czech Republic
The Bahamas
El Salvador
China
Austria
Canada
Check out my photos from some of the amazing adventures I have been on! I will continue to update this list as life goes on…